Meet Dr. Lucas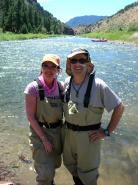 Kathleen J. Lucas
We are celebrating our 18th year of practicing in beautiful Pasadena. We are still celebrating our move to a beautiful new office as of 2009. From the time you enter the building's atrium with the wonderful garden setting to your time in our office; it is our goal to make you feel comfortable and at home.
I am a native of Southern California. I grew up in Glendale and my parents still call it home.
My education history is:
Westmont College, Santa Barbara, Ca.- B.A. Biology
University of Southern California School of Dentistry - D.D.S.
Wadsworth VA Medical Center- General Dentistry Residency
My professional affiliations include:
American Dental Association
California Dental Association
Academy of General Dentistry**
I am a fellow in the AGD which required 600 hours of Continuing Education and an exam. Very few dentists achieve this honor.
My community involvement include:
Young & Healthy: A community program which provides medical/dental care to the underpriviledged children in the city.
Lake Avenue Congregational Church
I have been married for almost 20 years. My husband is an aerospace engineer with Northrop-Gruman. We have 2 adorable dogs: Chelsea & Rusty
I enjoy cooking; we enjoy hiking,Traveling, Fly-fishing(here we are on the shore of the Colorado River).
Kathleen J. Lucas DDS