Meet the Staff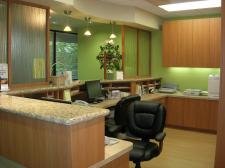 We care about what we do, and we hope we can make a difference in the overall health of our patients.
Our style is reminiscent of a traditional old school family practice (I see 1 patient at a time/ no overlapping 2 chairs) with a new school flair (modern equipment/ digital radiographs).
Appointment times are set aside for each patient, we try to respect our patient's time and not keep patient's waiting for too long. We hope our patients respect our time and arrive on time.
Our team strives to partner with you to help you achieve maximum oral health which compliments your overall physical health.
We are a group of dedicated professionals who will put our patient's needs first. We will encourage you to take ownership of your Dental Health. We will not lecture you; we will inform you and rely on you to be an engaged part of the team.
Your first contact will be with Karen. She has been with us since 1995. She will try to answer questions you may have regarding your appointments.

Jody Romo, R.D.H. has been with us full-time since 1994. 

Modesta Gonzalez, R.D.H. has been with us on Tuesdays since 2016.
Their role as Registered Dental Hygienists is to encourage you to be an active participant and to assist with maintaining your Periodontal Health.